Refurbished Units
Showing all 2 results
ReAmiga A1200 Rev 1.5 Refurbishment Service
ReAmiga A1200 Rev 1.5 Refurbishment Service built
using your faulty A1200 board as a donor
*. The Re-Amiga A1200 is a reverse engineered board by
John "Chucky" Hertell
. and is a full A1200 board with some extras added which include:
Composite Video area changed to a new decoder for improved quality.
VGA Connector added, VGA monitor needs to support 15Khz!
S-Video Connector for S-Video Out
Kickstart switch built in, if you are using 27C800 Eproms. you can program one bank with one kickstart and the other bank with another.
PCMCIA Reset fix.
Optional IRQ7 Switch.
Native PAL or NTSC Option (below)
Added LED's for _RST, _KB_RST, _ODD_CIA, _EVEN_CIA and _ROMEN also to Serial TXD and RXD (from the 5V level).
Added resistor to IDE Activity so now adapters that made IDE led always bright will be handled correctly.
Added pads close to floppy connector for a 0Ohm resistor if you want to do the Escom floppy patch instead of a wire.
9 Pin Mouse Port with Joystick tester LED's built in!
Fits in your current metal shielding**
This is a build service using a donor board you provide or provide the needed parts to complete the build - We are unable to provide any donor boards at this time however do ask incase we do have a board or two. 
We support the developers and our builders and donate a percentage to the developer directly. Once ordered we will request a 10% deposit to secure the service and send the you the address where to send you A1200 donor board. We can also offer payment plans over 3 months and once paid the unit will be shipped out. * Custom chips will be tested before hand, any custom chips which are faulty we will contact you and send a quote for the any faulty chips or parts. ** ReAmiga board does not come with any metal shielding.
£

359.00 Incl. VAT
£

359.00 Excl. VAT
Add to basket
Amiga A1200 Motherboard – Refurbished
Amiga A1200 motherboard fully refurbished (various motherboard revisions). Each A1200 motherboard is professionally refurbished and has had the following work completed:
Tested before any work has began.
All electrolytic capacitors removed using professional tools and techniques (no twisting off caps and boards a pre-warmed before the removing capacitors using hot air) this puts far less stress to the board itself.
Pads cleaned with flux/wick/IPA.
New electrolytic capacitors installed.
Modulator removed.
Board retested - Video (composite and RGB), Audio, CIA, Floppy, IDE, Parallel, Serial, Mouse, Joystick, DF1.
Board ultrasonic cleaned at 60 degrees using deionised water and professional PCB flux cleaner and then dried.
Board tested again and tested for a minimum of 4 hrs playing a rolling demo.
What is Ultrasonic cleaning?
Ultrasonic cleaning is a process that uses ultrasound (usually from 20–40 kHz) to agitate a fluid, this fluid is made up for this specific job which is to clean and remove any flux left over from recapping. We use deionised water (deionized depending where your from) and professional grade PCB cleaner. An example of the results and the process: [kad_youtube url="https://youtu.be/m4mbKPySfLE" ] [caption id="attachment_17767" align="aligncenter" width="300"]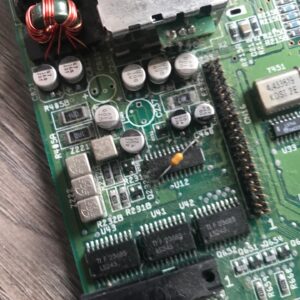 Amiga Motherboard Before being Recapped & Ultrasonic Cleaned[/caption] [caption id="attachment_17766" align="aligncenter" width="300"]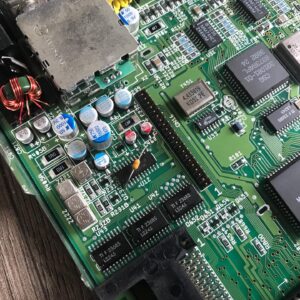 Refurbished Amiga Motherboard - Recapped & Ultrasonic Cleaned[/caption] Worldwide shipping available simply
contact us
for a shipping quote. 
Images of the Amiga 1200 motherboard is for illustrative purposes only and are PAL, each unit will show signs of age and use. If you want photos of the Amiga 1200 motherboards we have please contact us.
£

299.99 Incl. VAT
£

299.99 Excl. VAT
Select options