Refurbished Atari 1040 STE
355.78$ Incl. VAT355.78$ Excl. VAT
Refurbished Atari 1040 STE.
Technical Specifications
Motorola 68000 (8Mhz) CPU
4Mb Ram (Standard)
3.5″ 1.44mb Floppy Drive
UK Layout Keyboard
TOS V1.62
What's included?
Professionally refurbished Atari 1040 STE inc Power lead (power cable will have correct plug depending on where its being sent).
NOTE Cases may have a 520 STE Badge but all our Atari STE's will have 4Mb of ram minimum.
What is Refurbished?
The Atari STE mainboard has been professionally recapped deep cleaned using a Ultrasonic cleaner, bathed using deionised water and professional grade PCB/Flux cleaning solution. Once completed it is dried and a full diagnostic test is completed. Each unit is thoroughly inspected and tested including:
Full Keyboard check.
Floppy drive read and write test.
Sound checked.
Video checked.
Case and keyboard is stripped and deep cleaned.
We also perform the following mandatory Atari STE fixes:
Motherboard Recapped (all electrolytic capacitors)
PSU Recapped.
10K pull up resistor network to the DMA databus.
1772 Pull up Resistors added.
STE video circuit recapped.
STE Reset fix 22uF added across C100.
Bus resistors replaced with 2.2k resistor arrays.
What is Ultrasonic cleaning?
Ultrasonic cleaning is a process that uses ultrasound (usually from 20–40 kHz) to agitate a fluid, this fluid is made up for this specific job which is to clean and remove any flux left over from recapping. We use deionised water (deionized depending where your from) and professional grade PCB cleaner.
An example of the results: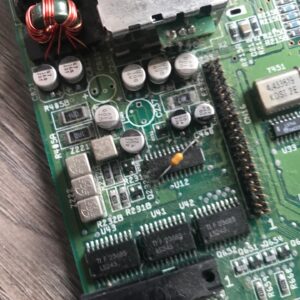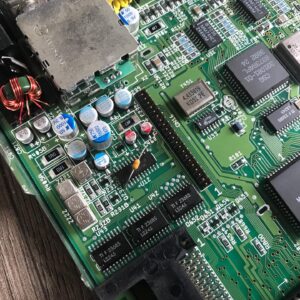 Worldwide shipping available simply contact us for a shipping quote. 
Images of the Atari STE for illustrative purposes only, each unit will show signs of age and use.