Refurbished Boards
Showing the single result
Amiga A1200 Motherboard – Refurbished
Amiga A1200 motherboard fully refurbished (various motherboard revisions). Each A1200 motherboard is professionally refurbished and has had the following work completed:
Tested before any work has began.
All electrolytic capacitors removed using professional tools and techniques (no twisting off caps and boards a pre-warmed before the removing capacitors using hot air) this puts far less stress to the board itself.
Pads cleaned with flux/wick/IPA.
New electrolytic capacitors installed using our premium polymer capacitors.
Modulator removed.
Timing fix applied for ACA , TF1230, TF1260 Accelerator Cards.
Board retested - Video (composite and RGB), Audio, CIA, Floppy, IDE, Parallel, Serial, Mouse, Joystick, DF1.
Board ultrasonic cleaned at 60 degrees using deionised water and professional PCB flux cleaner and then dried.
Board tested again and tested for a minimum of 4 hrs playing a rolling demo.
What is Ultrasonic cleaning?
Ultrasonic cleaning is a process that uses ultrasound (usually from 20–40 kHz) to agitate a fluid, this fluid is made up for this specific job which is to clean and remove any flux left over from recapping. We use deionised water (deionized depending where your from) and professional grade PCB cleaner. An example of the results and the process:
https://youtu.be/m4mbKPySfLE
[caption id="attachment_17767" align="aligncenter" width="300"]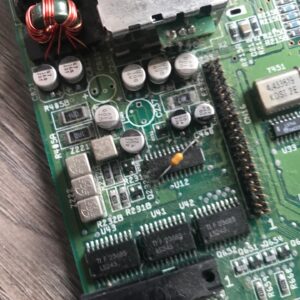 Amiga Motherboard Before being Recapped & Ultrasonic Cleaned[/caption] [caption id="attachment_17766" align="aligncenter" width="300"]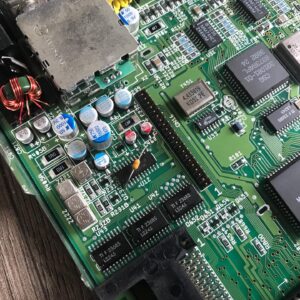 Refurbished Amiga Motherboard - Recapped & Ultrasonic Cleaned[/caption] Worldwide shipping available simply contact us for a shipping quote. 
Images of the Amiga 1200 motherboard is for illustrative purposes only and are PAL, each unit will show signs of age and use. If you want photos of the Amiga 1200 motherboards we have please contact us.
£

299.99 Incl. VAT
£

299.99 Excl. VAT
Select options