Amiga 1200 Accelerator or Ram Card Edge Connector Replacement
Amiga 1200 edge connector replacement service will replace a broken edge connector on a wide range of amiga 1200 accelerators or ram cards, a few examples below:
A1208 8Mb card
Any generic Amiga 1200 8Mb card
ACA Accelerator cards (ACA 1221, ACA 12xx, ACA 1230)
Apollo Accelerators
If you unsure if this service covers your accelerator just contact us here
Related products
Amiga 600/1200 Gotek (FlashFloppy) with Printed Mount, 3 Digit
These units are a great replacement for your failing Amiga 1200 or Amiga 600 floppy drive or you wish to simply replace it with a Gotek drive. These are plug and play in that you simply remove your existing Amiga 1200/600 floppy drive and replace it with this unit (you use your existing bracket). 3 new screws will also be supplied to secure it to the Amiga 1200/600. You will need a USB memory stick (NOT included) with your loaded ADF files. NOTE: A £1 donation will be given to 
Macmillan Cancer Support
 as the author of FlashFloppy does this with any donations made to him directly.
£

28.99 Inc. VAT
Add to basket
Refurbished Commodore Amiga 1200 Unit
Commodore Amiga 1200 - Professionally refurbished
Technical Specifications
Motorola 68020 (14Mhz) CPU
2Mb Chip Ram
3.0 Kickstart Roms
3.5" Floppy Drive
UK Layout Keyboard
What's included?
Professionally refurbished Amiga 1200 Unit (excluding mouse and PSU, these are options that can be added below).
What is refurbished?
Each Commodore Amiga 1200 mainboard is professionally recapped (standard or Polymer is avilable at extra cost) and deep cleaned using a Ultrasonic cleaner, bathed using deionised water and professional grade PCB/Flux cleaning solution. Once completed it is dried and a full diagnostic test is completed. Each unit is thoroughly inspected make sure the Amiga 1200 worked as it did when it first came from the factory back in the 1990's, case and keyboard is stripped and cleaned but due to age may show signs of use. Each Amiga 1200 is refurbished to the customers specifications, with that in mind each unit can take 14/21 working days to prepare and test depending on demand.
What is Ultrasonic cleaning?
Ultrasonic cleaning is a process that uses ultrasound (usually from 20–40 kHz) to agitate a fluid, this fluid is made up for this specific job which is to clean and remove any flux left over from recapping. We use deionised water (deionized depending where your from) and professional grade PCB cleaner. An example of the results and the process: [kad_youtube url="https://youtu.be/m4mbKPySfLE" ] [caption id="attachment_17767" align="aligncenter" width="300"]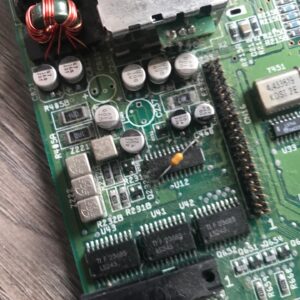 Amiga Motherboard Before being Recapped & Ultrasonic Cleaned[/caption] [caption id="attachment_17766" align="aligncenter" width="300"]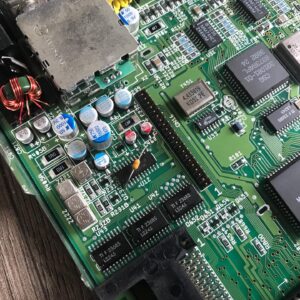 Refurbished Amiga Motherboard - Recapped & Ultrasonic Cleaned[/caption]
Want to add some extras?
We want you to have the Amiga you always wanted, and that's why we can offer some great upgrades to your Amiga, for example: Extra fast ram for WHDLoad, Scan doublers, Gotek drives etc.
Shipping
UK shipping will be via Parcelforce and shipping cost will be calculated the checkout. Worldwide shipping available simply
contact us
for a shipping quote. 
Images of the Amiga 1200 is for illustrative purposes only, each unit will show signs of age and use. If you want photos of the Amiga 1200 we have please contact us.
As these are custom built they can take between 14/21 working days depending on what add-ons are added. 
£

389.00
Select options
Commodore Amiga PSU for A600
Commodore Amiga PSU for A600, these are brand new and modern with It's 50W (55W peak) of total combined output power making it nearly 2x times stronger than original Commodore Amiga PSU and 2x smaller in dimensions & weight.
Key features:
Stabilized & filtered 5VDC up to 4A output (4.4A peak)
Stabilized & filtered 12VDC up to 2A output (2.2A peak)
Stabilized & filtered -12VDC up to 0.5A output (0.55A peak)
Carefully calibrated for Amiga 500 reference load
Active & passive over voltage protection for main +5VDC line
Over current protection for all output lines
Fully isolated & fused on AC side
Power On/Off switch
Long output cable (1.8m) with rectangular DIN 5-pin plug.
Detachable input AC cable for all versions (cable included)
Weight only 0.4 KG (2x less than original PSU)
Runs COLD!
Safety standards: UL60950-1, TUV EN60950-1, ANSI/AAMI ES60601-1, TUV EN60601-1, IEC60601-1
Manufactured by Electroware
UK Stock
---
Warning!
Risk of electrical shock and energy hazard when opened. All failures should be examined by a qualified technicians only. Risk of fire or electrical shock. The ventilation holes should be protected from foreign objects or dripping liquids. Please do not install power supplies in places with high ambient temperature or close to the heat source. Enclosed power supplies are intent to work in indoor locations, it's not allowed to use power supplies outdoor, in dust or high moisture. Output current and output wattage must not exceed the rated values.
This replacement Amiga PSU has been designed for Commodore Amiga 600 vintage computer systems only and should be considered as an integral component of Amiga computer system. Do not connect to any other devices as it's not a general purpose PSU. Manufacturer is not responsible for any consequences of unauthorised or arbitrary repairs, modifications or incorrect usage. Please notice that new, properly working replacement Amiga PSU is reducing the system's potential fail rate but still is not guaranteeing that entire Amiga system will work correctly (it's >30 years old).
£

49.99 Inc. VAT
Add to basket