Amiga 600 / 1200 PCMCIA Socket Replacement
£24.99 Incl. VAT£20.83 Excl. VAT
Amiga 600/1200 PCMCIA socket replacement service, this service replaces the PCMCIA socket, great if you have a physically broken socket or have bent or missing pins.
Available on backorder
Email me when stock is available
You may also like…
Amiga 1200 Recapping Service (Standard)
Amiga 1200 recapping service, all board revisions (1A,1B,1D1,1D4,2B). NOTE this is NOT a repair service.
Check the board before recapping is begun (any faults found before recapping will be reported back).
Removal of existing electrolytic capacitors both SMD and through hole.
Cleanup and preparation of areas.
Replace using quality electrolytic capacitors.
Retest (Video via RGB and Composite, Audio, Floppy Boot, CF Card boot).
Common issues recapping may solve:
Bad audio, missing channels, low volume
Slow boot up
Guru errors or random crashing
[space_20]
When you receive your freshly recapped motherboard back
[space_20]
Once your board has been returned we strongly suggest testing the board before adding any accessories or putting it back in any shielding (if it was sent without its metal shielding) or case. Many issues arise when the board is then subjected to add-ons being added or put back together without first knowing the board was working in its bare minimum state (PSU, Video/Audio only). We offer 14 days from delivery to notify us of any issues with your recapped board of which we will send you a returns label so we can recheck our work. We do randomly take videos and photos of recapped boards to showcase our work to share on social media and other outlets. Return shipping is calculated at the checkout including £100 cover for loss or damage and we only use tracked services. [space_20]
A little bit more about our Amiga recapping service and us!
[space_20]
We have been recapping Commodore Amiga computers since 2016 and have recapped over 400+ customer boards and 200+ of our own refurbished Amiga units, so you can rest assured that your board is in very safe hands.
We use the correct tools and methods for removing old SMD and through-hole capacitors avoiding unnecessary stress being applied to the motherboard or the copper pads themselves.
We offer ultrasonic PCB cleaning service where by the motherboard is bathed in a 60 °C deionised water bath combined with a PCB cleaner for 3 mins and then naturally dried for 24 hours. Results will vary depending on the condition of the board.
When you receive your board back, you can rest assured your board will be in the best condition to allow you to install any upgrades you have in mind, weather that be a new TF1230, TF1260, PiStorm32-Lite or a simple 8Mb Ram card.
And lastly, each board will have a sticker put on with the month/year it was recapped, what type of service was used and if it has been refurbished (ultrasonic clean) or repaired.
[space_40]
£

34.99 Incl. VAT
£

29.16 Excl. VAT
Select options
Amiga A600 Recapping Service (Standard)
Amiga A600 Recapping Service. All board revisions (1.1,1.3,1.5,2B,2D). NOTE this is NOT a repair service.
Check of the board before recapping is begun (any faults found before recapping will be reported back)
Removal of existing capacitors (both SMD and radial capacitors).
Cleanup and preparation of area.
Replace using either Panasonic/Wurth/KEMET capacitors.
Retest (Video, Audio, Floppy Boot, CF Card boot).
Want to know more about recapping, check out our
FAQ's
---
Overseas recapping orders
Overseas orders are very welcome and we are able to provide you return shipping costs at the checkout. To do this add any of our recapping services to your shopping basket and then at the checkout simply fill in the billing and shipping form including your telephone and email address (important) and click the '
Request a quote
' link. You will receive an email within 24hrs with the shipping cost and you can then proceed with the order by clicking on the '
Complete your order
' within the email. There is no need to leave the checkout page open your web browser.
£

34.99 Incl. VAT
£

29.16 Excl. VAT
Select options
Related products
Amiga 1200 Case Brand New White
Amiga 1200 Case Brand New White from
A1200.net.
What's included?
Top case including enhancements
Bottom case including enhancements
Enhanced bottom trapdoor with extra vents.
Enhanced rear trapdoor + extra plastic holder DVI / VGA shaped hole.
Rubber feet
Set of screws
How are these brand new?
In 2016 840 Amiga users made it possible in supporting a
Kickstarter
to reproduce the Amiga 1200 case lead by
Philippe Lang
, the new A1200 cases are made using 
Injection Molding
manufacturing technique to produce top and bottom shells as well as trapdoors and parts. The process implies the use of 3 new moulds, the first one is for the top shell, second mould for the bottom shell and last one for trapdoors and parts, all produced using brand new moulds.
Enhancements galore:
The Amiga community has never died and some have produced some great add-ons over the years to make sure the Amiga is still relevant and useful today as it was back in the 80's/early 90s and these cases take full advantage of that weather that's simply transferring your existing motherboard from your existing Amiga 1200 or have a luxury of installing a MiST FPGA Board. Below are few more enhancements: [accordion] [pane title="External CF Adaptor" start=open] A CF slot can be open up on the side of the A1200 case to allow easy access to what would be the CF card within the A1200 itself. [/pane] [pane title="MiST FPGA Board"] MiST is a FPGA based modern board that implements classic 16bit computers like the Commodore Amiga, Atari ST and 8bit systems like the Commodore 64, ZX-Spectrum, MSX, Atari XL/VCS, Apple II, Colecovision, Sega Master System, NES, SNES as well as Arcade machines. The primary difference between the MiST is that its NOT emulation. The new A1200 case has mounts to mount the MiST FPGA within the A1200 case. [/pane] [pane title="Raspberry PI"] Yes you can mount a Raspberry PI 2/3 within the new A1200 case with the use of the mounts already part of the case for a nice clean solution. [/pane] [pane title="Keyrah V2"] [caption id="attachment_18644" align="aligncenter" width="300"]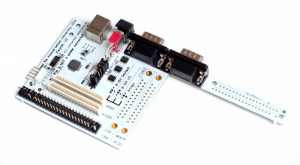 Keyrah V2 for the Amiga 1200/600, C64, VIC 20 and C16[/caption] Keyrah V2 is an IO adaptor that allows you to use the original keyboards of the Commodore Amiga 600 and 1200, Commodore 64, VIC-20 and C-16 within their respective cases. The purpose of this you can then install a Raspberry PI which uses the original keyboard of that computer and providing 2 x D9 ports. The new Amiga 1200 case has mounts are located at middle top of bottom shell. This location make the keyboard adapter available for Raspberry Pi or MiST board. Original Amiga 1200 keyboard ribbon will fit nicely just at the right place on the keyboard adapter board. I/O connectors are accessible through rear panel I/O slots. [/pane] [/accordion]
So what are the differences between the original Commodore case and the New A1200 case?
Screw brass inserts in all 6 new screw towers for smooth operations. No more broken plastic clips!
Bottom trapdoor offers better cooling with extra vents and 3x rear trapdoors are available: Plain door, VGA hole, DVI hole, perfect for the Re-Amiga
Supports for: Raspberry Pi©, MiST© FPGA, Keyrah© V2 keyboard adapter, RapidRoad© DoubleUSB  and Lotharek© HxC Floppy emulator
£

159.99 Incl. VAT
£

133.33 Excl. VAT
Select options