Refurbished Commodore Amiga 1200 Unit
£499.99 Incl. VAT£499.99 Excl. VAT
Commodore Amiga 1200 – Professionally refurbished
Technical Specifications
Motorola 68020 (14Mhz) CPU
2Mb Chip Ram
3.0 Kickstart Roms
3.5″ Floppy Drive
UK Layout Keyboard
What's included?
Professionally refurbished Amiga 1200 Unit (excluding mouse and PSU, these are options that can be added below).
What is refurbished?
Each Commodore Amiga 1200 mainboard is professionally recapped (standard or Polymer is available at extra cost) and deep cleaned using a Ultrasonic cleaner, bathed using deionised water and professional grade PCB/Flux cleaning solution. Once completed it is dried and a full diagnostic test is completed. Each unit is thoroughly inspected make sure the Amiga 1200 worked as it did when it first came from the factory back in the 1990's, case and keyboard is stripped and cleaned but due to age may show signs of use.
Each Amiga 1200 is refurbished to the customers specifications, with that in mind each unit can take 14/21 working days to prepare and test depending on demand.
What is Ultrasonic cleaning?
Ultrasonic cleaning is a process that uses ultrasound (usually from 20–40 kHz) to agitate a fluid, this fluid is made up for this specific job which is to clean and remove any flux left over from recapping. We use deionised water (deionized depending where your from) and professional grade PCB cleaner.
An example of the results and the process: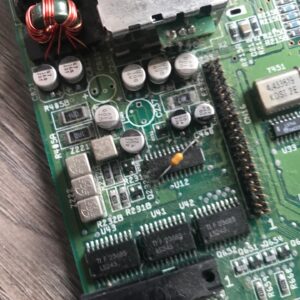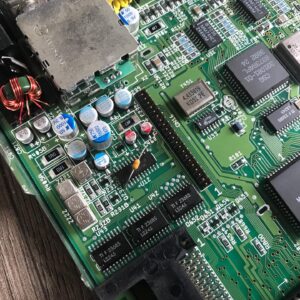 Want to add some extras?
We want you to have the Amiga you always wanted, and that's why we can offer some great upgrades to your Amiga, for example: Extra fast ram for WHDLoad, Scan doublers, Gotek drives etc.
Ordering
We only ask for a deposit and the rest upon completion.
Shipping
Worldwide shipping available simply contact us for a shipping quote.  
Important Notes:
Images of the Amiga 1200 are for illustrative purposes only, each unit will show signs of age and use. If you want photos of the Amiga 1200 we have please contact us.

As these are custom built they can take between 21/28 working days depending on what add-ons are added and workload.

Deposits are not refundable

No software warranty or support is provided, any software included is sold as seen.
Due to demand, new orders will ship Janurary 2024.
Related products
Amiga A1200 Recapping Service (PREMIUM)
Amiga A1200 recapping service (Premium) using hybrid polymer capacitors (never leak again!), all board revisions (1A,1B,1D1,1D4,2B). NOTE this is NOT a repair service.
Check of the board before recapping is begun (any faults found before recapping will be reported back)
Removal of existing capacitors (both SMD and radial capacitors).
Cleanup and preparation of area.
Replace using either polymer Panasonic/Wurth/KEMET capacitors.
Retest (Video, Audio, Floppy Boot, CF Card boot).
Want to know more about recapping, check out our
FAQ's
---
Overseas recapping orders
Overseas orders are very welcome and we are able to provide you return shipping costs at the checkout. To do this add any of our recapping services to your shopping basket and then at the checkout simply fill in the billing and shipping form including your telephone and email address (important) and click the '
Request a quote
' link. You will receive an email within 24hrs with the shipping cost and you can then proceed with the order by clicking on the '
Complete your order
' within the email. There is no need to leave the checkout page open your web browser.
£

54.99 Incl. VAT
£

45.83 Excl. VAT
Select options