Amiga 500 Plus Mainboard Remake Ramixx500 Fully Built
£649.99 Incl. VAT£649.99 Excl. VAT
Amiga 500 Plus mainboard remake AKA Ramixx500 is a motherboard clone of the classic A500 Plus REV 8.1A made by SukkoPera and not to be confused with the A500 ++ (A500 Plus Plus). The Ramixx500 is a good alternative to replace your existing broken A500 Plus board using your custom chips or one that is plug and play and soaked tested.
The Ramixx500 board has had a few improvements added compared to the original A500 Plus board:
Kickstart Switches – You can burn your Eproms and have 2 different kickstarts and use the jumpers or add switches to switch between kickstarts
DF0 Switch – Again becoming a must for Amiga owners to have both a internal Gotek and external drive or vice-versa, best of both worlds!
This is a fully built A500 Plus Ramixx500 board with all the custom chips and is plug and play, simply add your own kickstart rom or add one of the options below.
What's included?
Ramixx500 fully populated motherboard
What's not included?
Both bottom and top shield
Kickstart Rom
Screws/Hex Screws
33% deposit required – Rest on completion.
You may also like…
AmigaOS 3.2 CD-ROM Package for ALL Commodore Amigas
AmigaOS 3.2 CD-ROM for all Commodore Amiga's which includes:
A500 / A500 Plus
A600
A1000
A1200
A2000 / A1500
A3000 / A3000T
A4000 / A4000T
CDTV
AmigaOS 3.2 CD-Rom contains
all disks and AmigaOS Kickstart ROMs
so these can be transferred to real floppy disks or
Gotek drives.
The kickstarts can be used in any emulation environment like
WINUAE
or if your accelerator card has a
MapRom
feature, the kickstart Roms can be used with that function also. We also offer burning of AmigaOS 3.2 kickstart's to EPROMS if you want physical kickstart roms. This allows the Amiga user to install AmigaOS 3.2 on many different Amigas at the same time without having to purchasing any additional licences. AmigaOS 3.2 CD-ROM contents can be copied "as is" to an Amiga formatted hard drive and booted right away for installation thanks to the "Amiga Preinstallation Environment" (AmigaPE), we also offer pre-installed CF Cards. This is truly the ultimate package!
---
Some of AmigaOS 3.2 features
ReAction GUI toolkit integration
Built-in ADF (Amiga disk file image) management
Integrated Help subsystem
Updated Data Type system
Workbench and other user interface improvements
Improved Tools, Utilities and System applications
Enhanced Shell behavior
New and reworked command set
Touched up Preferences
Polished MultiView
Revamped Commodities
Expanded BootMenu
Inclusion and refinement of the AmigaOS 3.1.4 feature set
Flexible delivery media
Many more features to be listed
---
Minimum hardware requirements
Kickstart ROM 3.2 (recommended), 3.1.4 , or older 3.1
2 MB of total memory. Total memory is calculated by adding Chip RAM and Fast RAM. Consider an additional half megabyte if you are not using a physical Kickstart ROM 3.2.
10 MB of free hard disk space.
AmigaOS 3.2.1 (Released December 2021)
Don't forget to register your copy on the Hyperon Website, once you do you can download the
AmigaOS 3.2.1 update
free of charge. Below are some of the highlights:
Here are the highlights of the new features and fixes of AmigaOS 3.2.1:
Fixes to almost every single gadget and image class
Fix to clipboard.device that since AmigaOS 3.1.4 would not handle clips above 16KB in some cases
Important fix to locale.library that would convert signed values to unsigned
New IconEdit with support for colorful icons (like the "GlowIcons")
TextEdit has gained an ARexx port per open document
ShowConfig had its GUI reworked, and can now make reports in AmigaGuide format
The RAM disk linking feature have been changed a bit so it seems more like AmigaOS 3.1.4 while still being copy on read as in AmigaOS 3.2
Dropping files on console will now activate the console window
The screen will no longer remain black if you start up without any attached drive
Eject menu item in Workbench;
... And much more you will find listed in the release-notes.
AmigaOS 3.2.1 Roms
No new ROM images are provided, you do not need any new ROMS. If you are already using some kind of MapROM solution or would like us to reburn your existing ROMS (free of charge, just postage back) then go ahead. But it is possible that more ROM changes be rolled out in AmigaOS 3.2.2 so for for now use the file-based update instead using the link above.
AmigaOS 3.2.2 (Released March 2023)
AmigaOS 3.2.2 is available free of charge from the Hyperon website for those that have registered their copy of AmigaOS 3.2 via the Hyperon website. Here are the highlights of the new features and fixes of AmigaOS 3.2.2:
AmigaOS 3.2.2 Roms
3.2.2 is a good step upgrade and it is recommended when you upgrade to 3.2.2 you also upgrade your roms to 3.2.2. NOTE: All roms are now 3.2.2 and if A1200 roms are slected will also have ehide.device We are proud to be an official
Hyperion
 reseller.
£

54.99 Incl. VAT
£

45.83 Excl. VAT
Select options
Related products
Amiga PicoPSU Adaptor – A500, A600, A1200
Amiga PicoPSU Adaptor suitable for the A500/A600/A1200. The right angled connector provides a lower profile. You can operate the unit using a toggle or push to make switch. A 90W PicoPSU power supply, with a 60W mains adaptor, has been sufficient to operate an Amiga 600 and Amiga 1200 with a 040 and CD-ROM. PCB dimensions, 51x51mm Does not include any PicoPSU. Designed and built by
Ian Stedman
£

27.99 Incl. VAT
£

23.33 Excl. VAT
Add to basket
Amiga 2000 Replica Motherboard FULLY BUILT
Amiga 2000 Replica Motherboard fully built with all custom chips including Buster with an option of an additional 1Mb Chip ram upgrade to take it to a total of
2Mb
of chip ram which is perfect as a start for WHDLoad with a
TF534
or
TF536
Accelerator card. This board is a replica of the A2000 rev 6.2 motherboard reverse engineered by
Floppy209.
The unit was built from both new parts and recycled parts.
£

989.99 Incl. VAT
£

989.99 Excl. VAT
Add to basket
RGB2HDMI Amiga 500 / 500 Plus Adaptor
RGB2HDMI Amiga 500 / 500 Plus Adaptor which plus in to the
Denise
socket. The RGBtoHDMI project uses a
Raspberry Pi Zero
(not included) to display a pixel perfect image and it can be softened or scanlines can be added to connect your Amiga A500 or A500 plus to a HDMI TV without any external converter boxes or adaptors and no soldering required!!
The advantage of this RGB2HDMI adaptor it allows you to plug Amiga 500 accelerators cards at the same time for example the TF534 or TF536
What is included:
RGB2HDMI adapter.
Cable with a switch.
NOTES:
For every RGB2HDMI sold we donate a percentage of the sale to LinuxJedi (we support our builders and developers).
Some very early Amiga 500 rev 3 motherboard might require soldering to provide the necessary sync signals.
Raspberry Pi Zero and an SD card are required - these are NOT INCLUDED.
Professionally built.
This version was created by
LinuxJedi
 and is based on the OpenSource RGB2HDMI project by
c0pperdragon
&
hoglet67
.
£

42.99 Incl. VAT
£

35.83 Excl. VAT
Add to basket
Refurbished Commodore Amiga 600 Unit
Commodore Amiga 600 – Professionally refurbished
Technical Specifications
Motorola 68000 (7.14Mhz) CPU
1Mb Chip Ram
2.04 Kickstart Roms
3.5" Floppy Drive
UK Layout Keyboard
What's included?
Professionally refurbished Amiga 600 Unit (excluding mouse and PSU), these are options that can be added.
What is Refurbished?
Each Commodore Amiga 600 mainboard is professionally recapped (standard or Polymer is avilable at extra cost) and deep cleaned using a Ultrasonic cleaner, bathed using deionised water and professional grade PCB/Flux cleaning solution. Once completed it is dried and a full diagnostic test is completed. Each unit is thoroughly inspected make sure the Amiga 600 worked as it did when it first came from the factory back in the 1990's. Case and keyboard is stripped and cleaned but due to age may show signs of use and age.
What is Ultrasonic cleaning?
Ultrasonic cleaning is a process that uses ultrasound (usually from 20–40 kHz) to agitate a fluid, this fluid is made up for this specific job which is to clean and remove any flux left over from recapping. We use deionised water (deionized depending where your from) and professional grade PCB cleaner. An example of the results and the process: [kad_youtube url="https://youtu.be/m4mbKPySfLE" ] [caption id="attachment_17767" align="aligncenter" width="300"]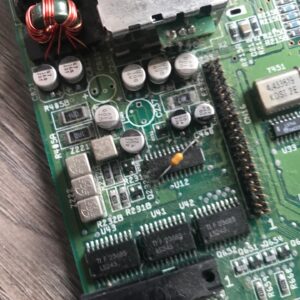 Amiga Motherboard Before being Recapped & Ultrasonic Cleaned[/caption] [caption id="attachment_17766" align="aligncenter" width="300"]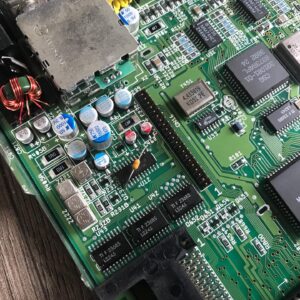 Refurbished Amiga Motherboard - Recapped & Ultrasonic Cleaned[/caption]
Want up add some extras?
We want you to have the Amiga you always wanted, and that's why we can offer some great upgrades to your Amiga, for example: Extra fast ram for WHDLoad, Gotek drives etc.
Shipping
UK shipping will be via Parcelforce and shipping cost will be calculated the checkout. Worldwide shipping available simply
contact us
for a shipping quote. 
Ordering
We only ask for a deposit and the rest upon completion.
Images of the Amiga 600 is for illustrative purposes only, each unit will show signs of age and use. If you want photos of the Amiga 600 we have please contact us.
£

329.99 Incl. VAT
£

329.99 Excl. VAT
Select options